March 26, 2019
CarbonCure recognized as 2019 New Energy Pioneer by Bloomberg New Energy Finance
CarbonCure among 10 game-changing companies recognized for leadership in fueling the transition to a lower carbon economy
NEW YORK CITY, NY – 26 March, 2019: CarbonCure Technologies Inc. (CarbonCure), a world leader in the utilization of captured carbon dioxide (CO2) in concrete production, has been named a New Energy Pioneer by Bloomberg New Energy Finance (BNEF).
BNEF is a leading provider of primary research on clean energy, advanced transport, digital industry, innovative materials, and commodities. Powered by Bloomberg, the global business and financial information news leader, the New Energy Pioneers program is sponsored by BNEF and Cycle Capital Management.
This year marks the ninth edition of the BNEF New Energy Pioneers competition. This year's 10 winning companies were selected from a pool of more than 185 applicants from 35 countries, and reviewed by an independent panel of industry experts. Candidates were evaluated based on their company's potential scale and global impact, their level of innovation and the momentum their business has gained within their market.
CarbonCure's scalable clean technology is now available in more than 130 concrete plants in North America and Asia. The CarbonCure Technology allows concrete producers and governments to meet their climate goals without capital expenditure, and to generate new cost efficiencies and infrastructure improvements—truly a win-win solution.
"We're honored to be included as a Bloomberg NEF New Energy Pioneer," says Robert Niven, CEO and Founder of CarbonCure. "CarbonCure is a leader in the emerging CO2 utilization market, and prestigious recognition of this kind will help us achieve our mission of reducing global CO2 emissions by 500 megatonnes annually."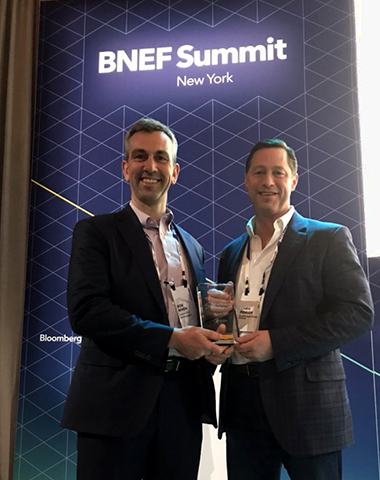 Carbon Capture and Utilization (CCU) technology deployed in the concrete industry is a $400 billion market opportunity, and has the potential to reduce up to 1.4 gigatonnes of annual CO2 emissions by 2030, according to the Global CO2 Initiative.
"Meeting our climate targets requires new solutions from overlooked industries in the climate action dialogue, such as concrete, which can have significant impacts when it comes to the reduction of global CO2 emissions along with building more climate resilient infrastructure," says Niven.
"This year we received a record number of high quality candidates for the New Energy Pioneers program, from across the world," says Michael Wilshire, selection committee chair and head of strategy at BloombergNEF. "We are heartened by the initiative, creativity and determination of these Pioneers and by the impact they can have on industries and society."
The list of 2019 New Energy Pioneers can be found here.
ABOUT CARBONCURE TECHNOLOGIES
carboncure.com
CarbonCure Technologies Inc. is the global leader in CO2 utilization technologies for the world's most abundant man-made material: concrete. The retrofit CarbonCure Technology chemically mineralizes waste carbon dioxide during the concrete manufacturing process to make greener and stronger concrete. CarbonCure has partnered with more than 130 concrete producers across North America and Asia to create new production cost savings, gain competitive sales advantages, and reduce the carbon footprint of the built environment.
For further enquiries, please kindly contact:
Christie Gamble          CARBONCURE TECHNOLOGIES INC.      cgamble@carboncure.com
---
Share