May 28, 2019
CarbonCure's Dr. Sean Monkman named Canada's Mission Innovation Champion
VANCOUVER, BC – Dr. Sean Monkman, Senior Vice President of Technology Development at CarbonCure Technologies, has been named Canada's inaugural Mission Innovation Champion at the 4th annual Mission Innovation Summit (MI4) and 10th annual Clean Energy Ministerial (CEM10) summit hosted by Canada in Vancouver, BC from May 27 to 29.
Mission Innovation, a global initiative involving 22 countries and the European Commission, has identified carbon capture utilization and storage (CCUS) as one of 8 Innovation Challenges that are key to achieving substantial emissions reductions. Mission Innovation Champions were selected from member countries to celebrate individuals with a track record of progressing creative new ideas that drive the pace and scale of the clean energy revolution.
Among the Mission Innovation community, Canada has been recognized as a leader in developing and promoting CCUS solutions to scale. According to the Global CO₂ Initiative, carbon capture and utilization (CCU) in concrete is estimated to create a $400 billion market opportunity with 3 gigatonnes of carbon dioxide (CO₂) reductions by 2030 pending the implementation of targeted policies.
Dr. Monkman will be representing Canada's innovation potential and sharing lessons on developing scalable CCU climate solutions in partnership with government and industry. In particular, new enabling programs and policies created in Alberta and Hawaii demonstrate pathways to immediately scale CCU solutions while improving local industry competitiveness.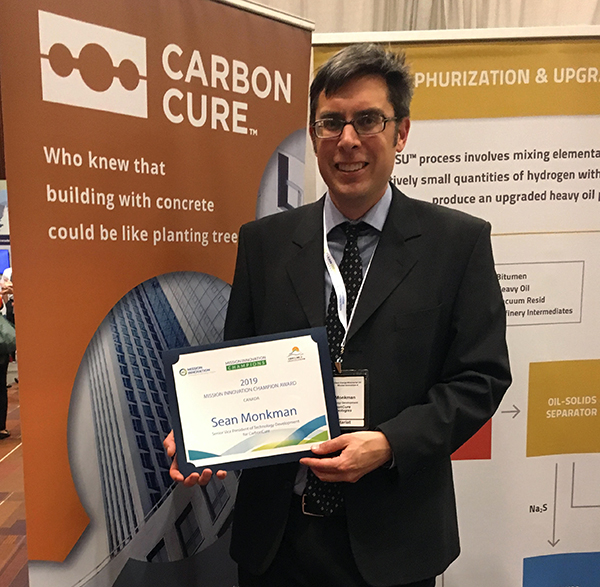 CarbonCure is an NRG COSIA Carbon XPRIZE finalist and a proud portfolio member of Breakthrough Energy Ventures, a private fund chaired by Bill Gates to complement the public sector clean energy commitments made by the Mission Innovation's founding member countries. CarbonCure's CO₂ mineralization technology is available in more than 130 locations across North America and Asia. The technology allows concrete producers and governments to meet climate goals through infrastructure development without capital expenditures.
Join Dr. Monkman for a panel discussion titled "Ahead of the Curve: Implementing Carbon Reduction Technologies" on Wednesday May 29 at 2pm PDT and visit the Emission Reduction Alberta booth located at E1100 to discuss public-private partnerships to scale up CCU deployment to achieve its market and GHG opportunity by 2030.
Read the official Mission Innovation Champions announcement here.
About CarbonCure Technologies
CarbonCure Technologies Inc. is the global leader in carbon dioxide (CO₂) utilization technologies for the world's most abundant man-made material: concrete. The retrofit CarbonCure Technology chemically mineralizes waste CO₂ during the concrete manufacturing process to make greener and stronger concrete. CarbonCure has partnered with more than 130 concrete producers across North America and Asia to create new production cost savings, gain competitive sales advantages, and reduce the carbon footprint of the built environment.
About Mission Innovation
mission-innovation.net

Mission Innovation (MI) is a global initiative of 23 countries and the European Commission (on behalf of the European Union) working to reinvigorate and accelerate global clean energy innovation with the objective to make clean energy widely affordable. MI was announced at COP21 on November 30, 2015, as world leaders came together in Paris to commit to ambitious efforts to combat climate change.
---
Share